Don't fret! We've already picked out the 10 coolest wedding favors for right now. Take your pick!
10. DIY Candy/ Cookie Bar
Let your guests make their own favor with the addition of a candy or cookie bar! This interactive favor gives your guests something to do and a variety of options that will please everyone. Plus who wouldn't want a little midnight snack for the after-party?
9. Mason Jars with Moxie
These mason jars have a chalkboard face on them for you and your guests to personalize them! These favors are unique and can be used over and over again. Perfect for a southern wedding!
8. Charitable Donation in your Guests Name
Instead of putting your money towards your guests, you can put it towards a good cause! Making a donation in honor of each guest will give every one a good feeling, and is often easier than selecting and presenting other favors!
7. Colors for the Kids
Don't forget about all of the younger guests on your special day! Keep them occupied with coloring books and a set of crayons, which will put a smile on everyone's face.
6. Lucky in Love
Give your guests a shot at some money with fun lottery scratchers. Who knows- maybe someone will strike it rich!
5. Pie in a Jar
You could buy these pre-made on etsy.com or make them yourselves to save some dough (haha)! Your guests will love the personal touch, and of course enjoy this scrumptious treat after your big day.
4. Bubbly or Brew
Keep the party going and send your guests with some bubbly for the after party. From airplane bottles of liquor to home-brewed beer, there's plenty of opportunity to impress your guests. Just make sure it's sealed to keep your guests safe!
3. Doughnuts!
If you haven't noticed- I'm a fan of some good mid-night snacking. These coupled doughnuts offer just that for your guests! They're easily personalized with a sticker, and a unique way to tell your guests thanks!
2. Brunch in a Box
This one is for the ambitious bride. The day after your wedding, a majority of your guests might be traveling back home. Why not send them with brunch for the trip? You can find the perfect how-to at the link below: 
http://www.weddingchicks.com/2013/07/24/how-to-make-brunch-in-a-box/
1. Hangover Kit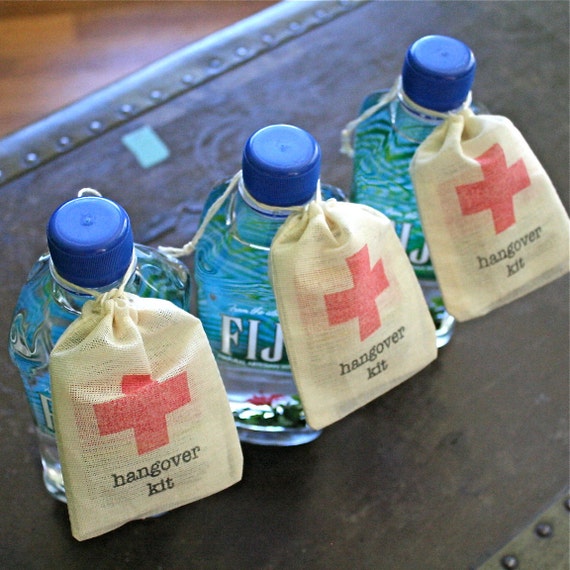 Not quite as ambitious as the brunch in a box, but just as effective! Chances are, your guests are going to have an awesome (and tipsy) time at your wedding. To help them recover the next day send them with a favor kit which you could buy pre-made on etsy.com or which you can make yourself! Something to include might be: a bottle of water, tylenol, 5 hour energy shot, breath mints, alka-seltzer, and visine eye-drops. The possibilities are endless!
– Lesner Inn ❤